IMPORTANT NOTE AS OF JUNE 2, 2020: Programs are Drop Off and Pick up ONLY at this time
We have been able to confirm that with the provincial guidelines for golf, at this time, all programs are to be run strictly as a drop off / pick up procedure.
To be very clear, this means that parents ARE NOT able to remain at either FireRock Golf Club or Oxbow Glen Golf Course during the duration of the classes.
We appreciate your understanding. Please respect the different times. Should you choose not to follow, your junior will be removed from the program with no refund. The staff at FireRock and our coaches need to stay focused on the juniors and golfers at the course.
DROP OFF / PICK UP PROCEDURES:
Below is a diagram showing the traffic flow to ensure everyone's safety. You will enter the property, drive straight towards the club house. You will make a left around the island and stop approximately 1/2 way down the island, Your junior can exit, grab the clubs and proceed to the driving range. You can then proceed to exit the property.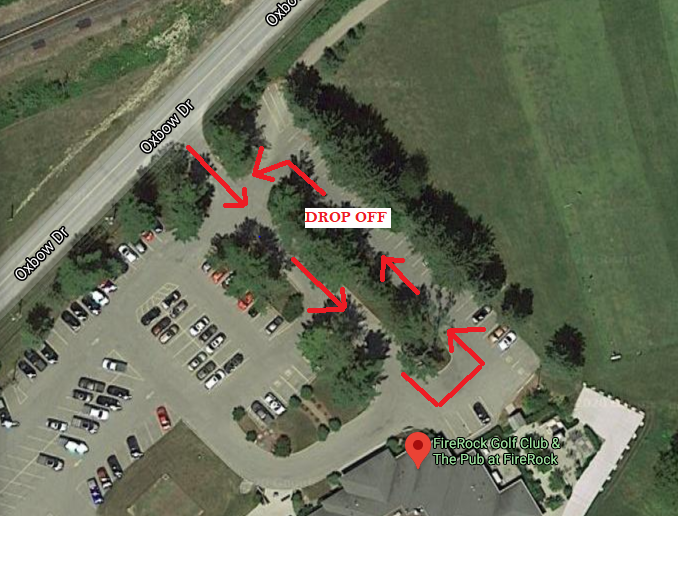 PREPARATION FOR CLASSES
Juniors should have a his/her own water bottle.
Juniors are recommended to have his / her personal hand sanitizer.
Juniors who attended our program in the past should have his / her level booklet on hand.
REVIEW FOR JUNIORS BEFORE CLASS:
Juniors should review the putting and full swing form diagrams in thbefore the first class.
DECISIONS ON WEATHER
We look at the weather radars very closely and will post any cancellations between 4 PM and 4:30 PM for our Learn to Golf and Active Start programs. Reminder to make sure you are following us on socials.
We look forward to a great season.
The Coaches
London Junior Golf Development Centre